Get started building with Divi and create a 6 figure business. Plus huge updates and new access to all new beginners course coming soon. There's never been a better time to make money with websites.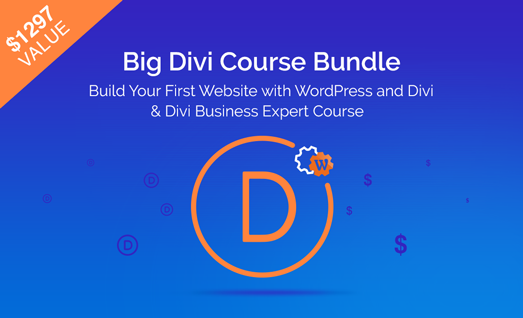 The Big Divi Course Bundle
Get everything you need to build your very first website and then grow your own web design business from $0 to a six-figure income with the most popular Divi expert course of all time bundled with our brand new Divi For Beginners course (coming January 2021). Get more than 65 hours of instructional videos, access to ongoing coaching, and future updates more than 60% off.
That's a $1297 value for just $496 (payment plans available).
or Choose a Payment Plan
Become a Divi Business Expert
Ready to start your own website business but not sure where to start? Get our best selling course at our lowest price ever. The Divi Business Expert Course has launched the careers of over 650 tech entrepreneurs and as an extra bonus we have huge new updates to the course coming in 2022.
Learn from the masters with more than 40 hours in training and coaching videos and get all the updates now for our LOWEST PRICE EVER $997 $397.
New Course at Early Bird Pricing
We are launching the most complete and comprehensive Getting Started with WordPress and Divi course ever created. Bundle and save or buy it now at our early bird Black Friday pricing and start your year with all the skills you need to start building websites. Includes more than 25 hours of instructional training from Divi and WordPress pros plus live zoom training sessions.
Get in now for our lowest price guaranteed for 1 year, and join us for the launch very soon.
+65 hours of instructional video training

Weekly Coaching Calls to Help you take action and implement what you learn in the course.

Divi Business Expert Certificate and Badge on course completion

Lifetime Access to the members-only Facebook Group

Lifetime Access to the members-only live webinars

Lifetime Access to all future course updates

Access to the Course Bonuses and Materials (two child themes, two discounted Divi memberships, templates and cheat sheets)

6 Months of Private Mastermind Coaching (New!)

Just finished this amazing course. The live coaching calls are great and added much more value then I ever could have imagined. Questions led to new added value like extra documents and so on.. Very happy with the course!

This has been the best investment in learning in a long time for me. Literally a point that sets for me a before and after as a web designer! You have given me not only a blueprint to get where I want but also the confidence and the support of an incredible group to build on! Thank you so much, I would recommend this course 1000 times! Thank you really for such a amazing course! You got a super fan!!!! ?

Have just finished the Divi Business Expert Course run by WP gears. I am just starting my website development business and Tim and David have provided the best launchpad I could have wished for. They are extremely open and honest and willing to share their knowledge to help their community grow their businesses and stuff. Thanks Guys

OMG what an outstanding course and worth every British penny. ? As a newbie I haven't much experience with building/creating websites. However, I purchased and am here to say a big THANK YOU. The drip delivery suited me as it gave me time to absorb the contents and prepare questions for the weekly LIVE COACHING CALLS, (what a fantastic idea). The exclusive Facebook groupies are amazing and consisted of people from around the world who have different levels of knowledge and abilities, those who have been building for years to new starters. At no point did I feel shunned or stupid but felt supported. Groupies would send out messages for clarity, assistance, support, ideas and even Tim and David would pop in with their thoughts. Tim and David's roll play sessions – valuable and despite the seriousness of the session, were entertaining. Tim and David are great teachers who's delivery style is relaxed and oozes with confidence gained from their own personal experience of getting to where they are know and they balance and support each other. A nice touch. There is too much goodness to say about this course! The DOWNSIDE – Mmmm, nope, cannot think of any. What I have gained here is priceless and I am thankful to God who I believe directed me to follow my path of becoming a web designer, the teachings of Tim and David and the opportunity to communicate with like minded FB Groupies.