A web design business is one of the most lucrative businesses anyone can start. There is a lot of information on the web about designing websites, but there isn't a lot about starting and running the business itself. Divi Business Expert is a course that takes you from the beginner level to a complete expert to run your very own Divi business.
The course teaches how to be efficient in web design, the design fundamentals, and how to use tools and resources so you don't have to start your designs from scratch. You won't need to learn code. They do teach what you need to know and how to learn even more, but they'll teach you how to run a 6-figure business without being a programmer.
Why Create a Web Design Business with Divi
There has never been a better time to start your own WordPress design business. When you consider:
About 30% of all the websites in the world run on WordPress
Divi is the world's most popular, and most awesome, WordPress theme
30% of the small businesses in the US alone don't have websites yet
You can build anything with Divi
This means there is a huge need and demand for high-quality websites, and Divi gives you the tools to build them. If you learn to build those websites with Divi, you will be in demand. Not only are there plenty of websites that need to be built, there are also plenty of websites that need to be updated. There are enough websites built with Divi that web-owners specifically need Divi experts to help them with their websites.
Who This Course is For
Divi Business Expert is for anyone that wants to create their own business and make money by creating websites for clients. It doesn't matter if you're new to Divi and WordPress and want to learn how to get started or if you're an experienced WordPress designer that wants to take their business to the next level.
This includes anyone that wants to learn the business side of a web business such as how to get better-paying clients, optimize workflow, outsource, and creating your very own home-based business.
The course is also for anyone that wants to learn the techy side of web development such as hosting, FTP, DNS, or styling your website with CSS.
Divi Business Expert Course

The Divi Business Expert is an 8-week course that provides the knowledge you need to start a web design business and take it to the 6-figure level.
It includes four modules and covers:
Module 1 – Understanding the Power of Divi, & Effective Site Building. It focuses on building websites with Divi. This includes hosting, an overview of the Divi framework, how to build websites with Divi, creating your portfolio, and design fundamentals.
Module 2 – How to Effectively Run a Divi Business. This one focuses on running a Divi business including project management and communication tools, client management, avoiding scope-creep, time management, handing off the site to clients, and a checklist for launching and migrating clients' sites.
Module 3 – Sales: Getting Leads & Closing Deals. This module teaches about getting the sale. It covers how to get your first round of clients, the acquiring/prospecting/pipeline process, getting consistent referrals, and closing the deal.
Module 4 – Marketing. This one focuses on marketing your business such as getting and using testimonials, designing your website's architecture, and the WordPress community.
The course begins August 1st but you'll have access to bonus content as soon as you join. It also includes lifetime access to the members-only live webinars and lifetime access to the private Facebook group.
The Teachers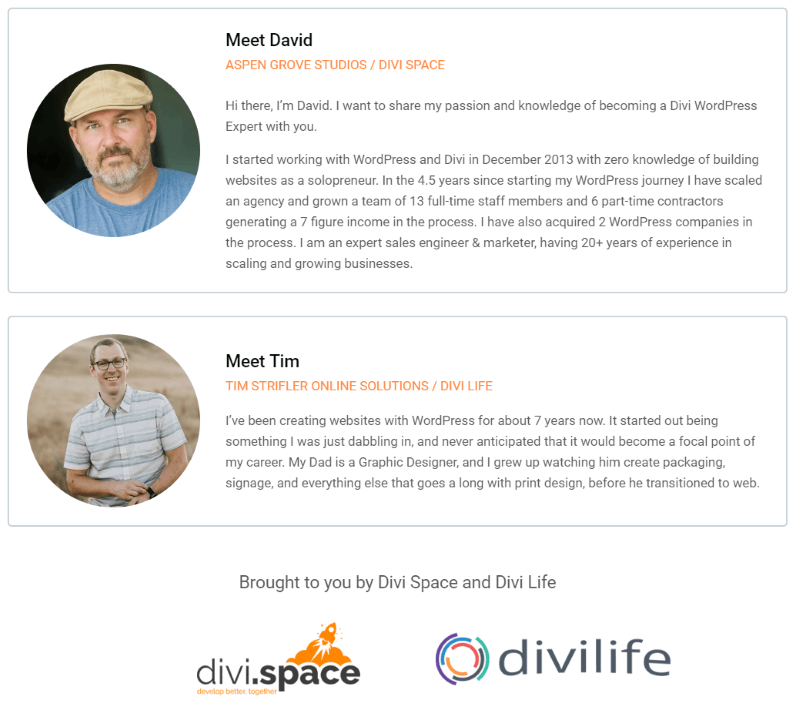 The Divi Business Expert course comes from David Blackmon of Aspen Grove Studios and Divi Space, and Tim Strifler of Online Solutions and Divi Life. Between them they have many years' experience with Divi, business development, marketing, sales, and web design. They're the perfect team to lead you from $0 to a 6-figure income with your own web design business.
Bonuses
The course also includes a few bonuses.
Coaching calls – weekly coaching calls with both Tim and David, and occasional special guests, to help you get past the difficult points of your Divi business.
Agency Website Startup Kit – 2 professionally design Divi child themes to give you a starting point on your Divi designs, and 25% off of memberships at both Divi Space and Divi Life.
Docs in a Box – includes a high-converting website design proposal template, a legal contract, a client cheat sheet, and project management templates.
These bonuses are worth over $3200 by themselves and they're included for free. You're not left to fend for yourself. David and Tim want you to succeed and they've provided tools to help.
The Best Time is Now
This is an excellent time to start a web-design business with Divi, and the Divi Business Expert course can give you the knowledge you need to get your successful business off the ground.
The benefits can far outweigh the cost. Running your own successful Divi business would allow you to:
Work from home
Build a scalable business
Spend more time with our friends and family
Travel and work remotely
Help companies grow their businesses
Work with better quality clients
Do work you love
Create a business that's scalable and sellable
Ending Thoughts
Web design is a popular business with lots of potential and Divi is by far the best platform to use for building that business. The Divi Business Expert course is the best way to get started and develop a business that will succeed. Anyone interested in starting or taking their Divi web design business to the 6-figure level will benefit from the Divi Business Expert course from David Blackmon and Tim Strifler.
The course provides 8 weeks of training, one-on-one coaching to help iron out any issues you may be facing with your business, live webinars, a Facebook group, and lots of bonuses to help you get started. With lifetime access to the course materials, you can come back to the course as often as you want.
For more information and to sign up, see the Divi Business Expert course page.